Finally had a chance to make it down to the local auction house the other day. I have to say I have never seen so much junk, erm treasures, packed in one place. There was a monstrous stuffed dog, penny jewelry, framed posters, purses upon purses upon purses, longaberger baskets, cherry bedroom suites, couches, divans, chairs, table, you get the idea! Basically the joint was packed full of one mans trash soon to become another mans treasure.
I got a number and waited for the bidding to commence. Outside of loosing out on a mandolin, I won all the other auctions I was bidding on. I was really looking for displays for the new shop. I did find one old oak dresser, a tool box, 3 amazingly huge lamps and a smorgasbord of odds'n'ends.
The booty. I have no idea what to do with the slatted piece, but I'm sure it will come in handy at some point in time or another. I have a serious addiction to antique hand made tool boxes. I am just captivated by the fact that someone built this box to hold the tools they used on daily jobs. Or, maybe it was used to hold someones house hold tool collection. Either way I am fascinated with the uniqueness and beauty of each box.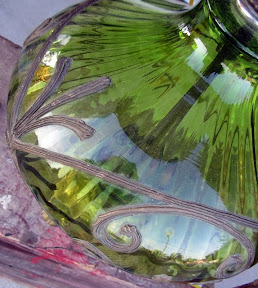 Green glass globe lamp. Winning bid...$5
Gold pineapple globe lamp that supposedly lights up. Winning bid $5.
Taking ideas for what this could be. It was so cute that I just couldn't pass it up. Will take pics of the rest when I have a bit more time.